About Us
About Artistic Flowers
---
We have officially rebranded to Jennie's Flowers St. Petersburg! Thank you for following along as we elevate our look and improve your shopping experience. Check out our NEW logo and website today!

Since 1975, we have proudly served St. Petersburg with farm-fresh flowers and exceptional designs. We are still the same company and staff that you've grown to love- only BETTER than ever before. With an elevated new look and seamless checkout process, we remain wrapped in the tradition of providing 5-star customer service to the beautiful people of St. Pete. Thank you for supporting us over the years.

Welcome to the new Jennie's Flowers St. Petersburg of St. Petersburg.

Artistic Flowers has been proudly located in St. Petersburg since 1975. We are locally owned and operated serving the St. Petersburg, Largo, Seminole, Clearwater, Tampa and surrounding area. We are committed to offering beautiful fresh flower arrangements and gifts with 5 star customer service. Our staff includes professional floral designers with decades of experience dedicated to making your flower arrangement a breathtaking reflection of inspiration for every occasion. We specialize in upscale luxury arrangements and tropicals including our St Pete collection. We also do weddings and special events of all sizes. We custom design every floral arrangement and can accommodate every budget.
We deliver locally and across the USA and offer SAME DAY, RUSH and PRIORITY DELIVERY!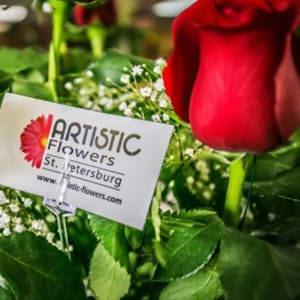 Jennie's Flowers St. Petersburg
2301 Doctor Martin Luther King Jr. Street N
St. Petersburg,FL 33704
Store Hours
---
Our 49th Street Location
Monday - Friday: 8:00 a.m. - 6:00 p.m.
Saturday: 8:00 a.m. - 5:00 p.m.
Sunday: Closed

Our 4th Street Location (PERMANENTLY Moved to 49th St location 10/09/19)

To help assure on-time delivery during the busy holiday season, place your order at least one day prior to the following major holidays: Thanksgiving Day, Christmas Day, New Year's Day, Valentine's Day, Easter, Administrative Professionals Week, Mother's Day, Memorial Day, Father's Day, Independence Day and Labor Day.
Our stores will be closed on the following holidays: Thanksgiving Day, Christmas Day, New Year's Day, Easter, Mother's Day, Memorial Day, Father's Day, Independence Day and Labor Day.
Contact Information
If you have questions or need more information, we'd love to hear from you! Email us at info@artistic-flowers.comor call us at 727-521-1883. We welcome your inquiry.
Connect With Us, Like Us, Review Us!
Jennie's Artistic Flowers of St. Petersburg
2301 Doctor Martin Luther King Jr. Street N
St. Petersburg, FL 33704
(727) 521-1883
Specialty Services
---
We specialize in the following services:
Large inventory of fresh flowers
Tropicals
Plants
European/dish gardens
Contemporary and traditional arrangements
High-style floral arrangements
Silk arrangements
Dried floral arrangements
Weddings
Funeral designs
Extensive gift line
Gourmet and fruit baskets
Gift baskets
Greeting cards
Candles
Mylar Balloons
Stuffed Animals
Areas Served
---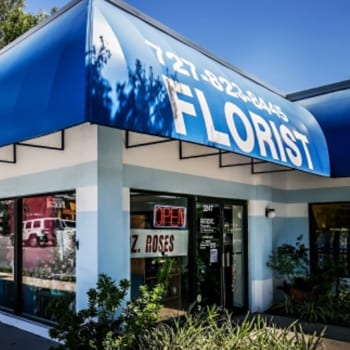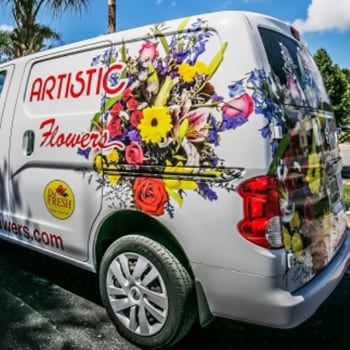 We deliver locally and across the nation. Our local service area includes St. Petersburg, Tierra Verde, Gulfport, Largo, Seminole, Pinellas Park, Madeira Beach, Redington Beach, St. Pete Beach and Clearwater. We can also serve Tampa, Port Richey, New Port Richey and other surrounding areas.
We also deliver to the following facilities
540 Town Center
A Life Tribute Funeral Care
Abbey Rehabilitation Ctr
Adult Home Care LLC
Alhambra Nursing Home
All Children's Hospital
All Children's Hospital Fndtn
All Children's Hospital Speech
Anderson McQueen Funeral Home
Anderson-Mc Queen Funeral Home
Anderson-McQueen Funeral Home
Angelas House For The Elderly
Apollo Nursing & Rehab
Arbor Oaks At Tyrone
Arlington Arbor
Autumn House
Azalea Manor
B & H Care Homes
Barthelette Guest Home
Bay Mobile Home Park
Bay Pines Manor
Bay Pines VA Fisher House
Bay Pines Veterans Hospital
Bay Pointe Nursing Pavilion
Bayfront Health St. Petersburg
Bayfront Medical Plz
Bayfront-St Anthony's Health
Baytree Lakeside
Baywood Nursing Ctr
Bethany Towers
Blount Curry & Roel Funeral
Boca Ciega Ctr
Boley Centers-Behaviorial Heal
Bon Secours Maria Manor
Bon Secours Place
Bond Hotel
Brett Funeral Home
Burlington Tower
Butterfly Manor
Buttonwood Manor
C E Prevatt Funeral Home
Carrington Place Nursing Home
Casa Grande
Casket & Monument Discount
Center for Special Surgery
City Central Assisted Living
Club Chalet Mobile Home Park
College Harbor Retirement Comm
Concordia Manor
Conner's Mobile Home Park
Courtyard Manor-St Petersburg
Creal Funeral Home
Creal Funeral Home And Cremati
Crosswinds Mobile Home Park
David C. Gross Funeral Home
Dolphins View
E Dale Gunter Funeral Home
Easton House
Edward White Hospital
Edward White Senior Health Ctr
Egret Cove Ctr
Fair Oaks Assisted Lvng Fclty
Farmer's Retirement Home Inc
Fifth Avenue Retirement Home
Fountain Inn
Fountains At Boca Ciega Bay
Four Palm Manor
Front Porch Manor
Golfview Nursing Home
Good Samaritan Nursing Home
Grace Healthcare-St Petersburg
Grand Villa of St. Petersburg
Gunter Funeral Home
Hamilton Assisted Living Inc.
Heartland Of St Petersburg
Hilcrest Retirement Residence
Icma Retirement Corp
Integrated Health Svc
Isle Of Palms Mobile Home Park
Jacaranda Manor
John S Rhodes Funeral Homes
Kindred Hospital
Lake Rich Village
Lake View House
Laurels Nursing & Rehab Ctr
Leon Manor
Longleaf Alf LLC
Lutheran Apartments
Manor Care Health Svc
Mariner Health-Pinellas Point
Masonic Lodge
Mc Rae Funeral Home
Melody Gardens Resident Owned
Memorial Park Funeral Home &
Menorah Manor
Mobel Americana
Nancy Lee's Manor
North Rehabilitation Ctr
Northeast Oaks
Northside Hospital
Palladium ALF
Palm Cove Retirement Residence
Palm Shores Of St Petersburg
Palms Of Pasadena Hospital
Park Place Of St Petersburg
Pasadena Manor
Patience Plus
Patrick Manor Inc
Philip Benjamin Tower
Pickett Fence Manor
Presbyterian Homes & Housing
Presbyterian Towers Inc
Princess Martha
Quality Home Care
R. Lee Williams & Son Funeral
Rainbow Guests
Rehabilitation Center Of St. P
Rose
Sea Horse Mobile Home
Shore Acres Rehab & Nursing
Skyline Fifth Luxury Apartment
Smith's Funeral Home Inc
Sorensen Funeral Home
South Heritage Nursing Ctr
Spanish Oaks Retirement Ctr
St Petersburg General Hospital
St. Anthony's Hospital
Suncoast Hospice
Suncoast Manor
Sunny Acres Trailer Park
Sunrise At North Shore
Sunshine Mobile Home Park
Superior Care
The Fountains At Boca Ciega Ba
Treasure Village Mobile Home
Tyrone Manor
Victoria's House
Village Green Active 55+ Comm
Viridian
Welcome Home Ministries
Westminster Shores
Wilders Mobile Homeowners Assn
Wirick
Zion Hill Mortuary